OVERVIEW
Money management is one of the most important parts of your financial life. Knowing how to how to budget, spend and save can help you reach your financial goals, get out of debt, and build your savings. In this resource, you will learn how to manage your money and find tips to help you get to where you want to be financially.
HOW TO MANAGE MONEY
The main areas to manage your money are budgeting, managing spending, saving, and getting out of debt.
money management tips
There are many things you can do to help manage money. Below are some tips to help you reach your goals.
FOUR SIMPLE TIPS
KNOW WHEN YOUR INCOME IS COMING IN
Understand when your paycheck or benefits come in. Some income comes in at the same time, but some is not regular.
KNOW WHAT YOU ARE SPENDING
It is important to know what you are spending your money on. Make a list of needs vs wants and focus only on the things you actually need. For more details on spending, go to the All About Spending resource.
KNOW YOUR SAVING STRATEGY
Creating a saving strategy is important so your expenses do not exceed your income. Build a savings strategy that builds emergency savings, which is typically 3 to 6 months of your expenses. A savings strategy can also help you save for future goals like buying a car, taking a trip or paying off debt.
Getting comfortable with these four tips may help you meet your monthly bills, have a good handle on where your money goes each month, and build a solid plan for meeting future financial goals.
50/30/20
The 50/30/20 rule is a simple budget tool that can help you figure out how much money to save and spend. The infograph below breaks down the details of the 50/30/20 rule.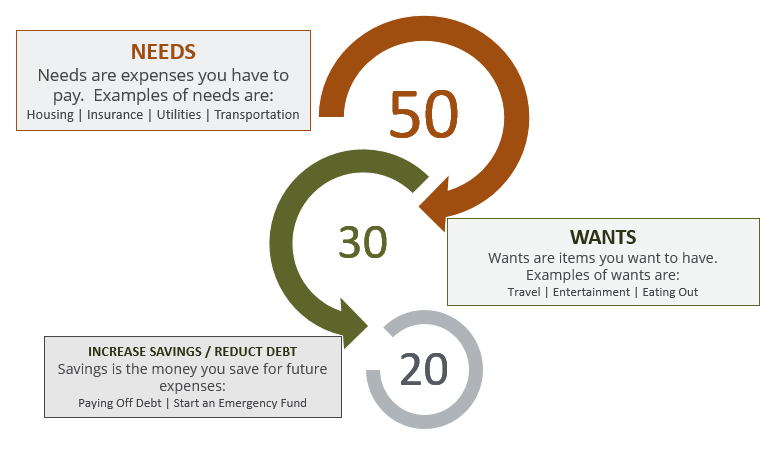 sPENDING tips
Make the most of the money you have by paying attention to how the little things add up. Before spending, ask yourself:
There are other important tips, like being creative to save money and avoiding high cost loans and fees that you also want to keep in mind.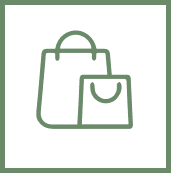 MONEY SAVING TIPS