SECURITY AT HOME AND ONLINE
Security at home and online are very important. There are some simple things you can do to keep your identity, money, and yourself protected.
Smart ideas for protecting yourself
Be wary of strangers you allow in. Keep sensitive data, credit cards, and checkbooks out of sight.
Store your new and cancelled checks securely.
Safely store copies of your driver's license, credit cards, car registration, I.D. cards, etc.
Shred old and unnecessary financial documents, statements, and unwanted credit offers.
Don't send personal information such as account numbers, credit card numbers, or PINs via email.
Select one credit card with a low credit limit to use for all your online purchases.
Immediately after you make a Web transaction, completely close your browser.
Turn off your computer when you're not using it — don't leave it in "sleep" mode.
Never download files or click on hyperlinks in emails from people or companies you don't know.
Install a firewall, virus protection, and spyware on your computer and update them regularly.
Note: To maximize Web transaction safety, use a recent version of your Web browser. Web addresses starting with "https" and Web pages with a padlock symbol in the lower right corner are safest.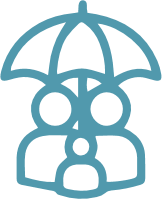 ATM, DEBIT AND CREDIT CARD SECURITY TIPS
MAIL SECURITY
Review these tips for keeping your mail safe.
Smart ideas for protecting your mail
Notify the post office immediately if you change your address.
Get a mailbox that you must unlock with a key to remove your mail.
Don't leave your mail for long periods of time in visible, unguarded areas (e.g., apartment lobbies).
Reduce your risk of mail fraud by signing up for electronic statements or bills.
Review your statements both in paper and online to detect suspicious activity and fraud.
If you're out of town, put a hold on your mail delivery or have a person you trust pick it up.
Don't put outgoing mail in your residential mailbox. It could be stolen.
Put outgoing mail in a secure USPS mail box or hand it directly to a uniformed USPS mail carrier.
Use an electronic bill pay service to help keep your information safe.
If a company's regular bills or statements stop reaching you, contact that company immediately.
If you stop receiving mail, call the post office immediately.
Note: If you use the red flags found on some mailboxes to alert your mail carrier of outgoing mail, you are also alerting potential thieves that outgoing mail is in the box!