what is wealth building?
Ever wonder what the difference is between having money and having wealth? Well, no doubt about it, earning a good income is great … but "having money" and "wealth building" are really two different things. Income pays the bills, but it's money that goes into your pocket and right back out. When you have wealth — savings, assets, and investments — you have more than just income. Wealth is a set of resources you can use to create and take advantage of life's opportunities.
Wealth building usually doesn't happen overnight, in a year, or in three years. Building wealth is a series of steps that you take over time. It's an ongoing process that requires discipline. If you apply that discipline, wealth-building becomes a life pattern. And as you move through each stage of life, you grow in your ability to build wealth and to pass that wealth from generation to generation.
wealth building pyramid
Think of wealth building like a pyramid.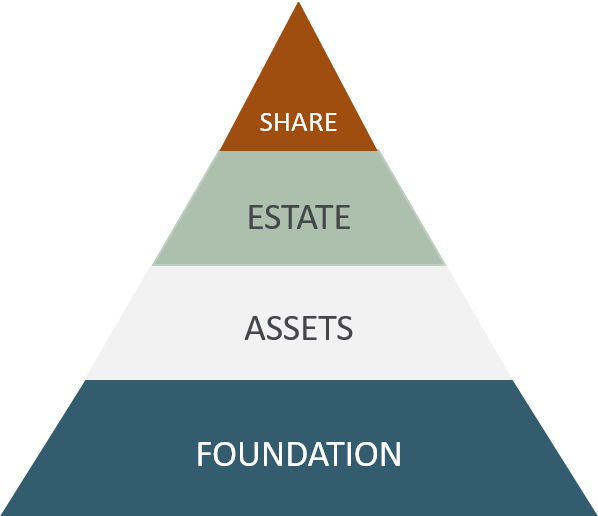 Base layer
The foundation layer is cash flow. Before someone can truly begin building wealth, they must consistently generate enough income to handle month-to-month expenses. It's also a good idea to have enough savings set aside to cover at least two months, and if possible three to six months of living expenses, in case of a financial emergency.
Second layer
Once the cash flow foundation is in place, you can begin to invest in assets — investments, such as real estate or stocks. These investments will hopefully increase in value over time and allow you to retire at some point in the future with a comfortable lifestyle.
Third layer
Moving up the pyramid, the next layer is your estate, the wealth you'll pass on to your family. If you're a business owner, this could include your business.
Top layer
At the very top of the pyramid are your legacy goals, or your philanthropic goals — the many positive ways you might share your wealth by giving back to your community.
the three pillars of wealth building
Think of wealth as a building with three pillars.
Real Property Assets
The first pillar of wealth building is "Real Property Assets" (your personal residence and investment real estate) because in general, real estate appreciates in value.
And once you own a home, you gain the potential to tap into your home equity, which means you may be able to borrow money using your home as security. Home equity gives people financial flexibility and options.
Investments
The second pillar is investments — for example, a retirement account where you have stocks and bonds.
Entrepreneurship
And the third pillar is entrepreneurship — owning a business of your own.
Note: For most people, 2/3 of family wealth is in the family home. Home equity can be a source of capital for all your wealth-building goals, and a home can create wealth that you leave to future generations.
The big picture: your financial plan
Seeing the big picture can help you reach your financial goals. Professionals can help you create your plan.
What is financial planning?
Financial planning means creating a long-term vision and clear goals for the future you want. Creating a financial plan helps you see what you're trying to achieve and how all the major pieces of your financial world add up into one complete picture.
What should I be thinking about?
Major pieces of your financial plan include:
Your job, military career, or business
Your spending plan
Your bank accounts
Major assets you own
Debts you owe
Real estate
Insurance
Investments
Estate planning for the next generation
Professional advice
Take advantage of professional advice. Some financial services companies will answer basic financial questions for free or create a basic financial plan for as little as a few hundred dollars. You may have to pay for some planning services, but financial advice doesn't have to be expensive.
Keep in mind that paying for financial planning advice now can be a bargain if it helps you make smart financial choices that pay off in the long run.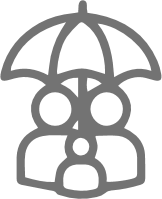 protect yourself with insurance
Once you start building wealth, you need to take steps to protect it. Insurance is one way to protect your wealth.
This is provided for informational purposes only and should not be construed as legal or financial advice. Please consult your legal or financial advisor for more information.