Why open a checking Account?
Keeps your money safe
Deposit/withdraw cash easily
Convenient bill pay/purchasing
Helps you track spending
No- or low-cost checking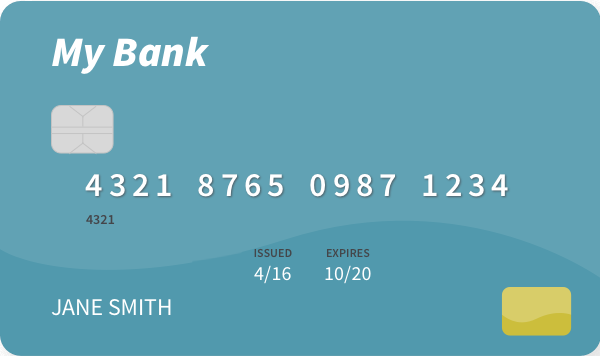 A checking account offers a safe and convenient way to manage your money, including making payments. With your account, you can have access to checks and a debit card. Your financial institution will normally provide you with checks when you open a checking account. You can order more checks when you need them, usually for a fee.
Checks are paper forms that people use to transfer money from one place to another. A check is a written order that instructs a bank to pay a specific amount of money from a specific checking account to a specific person or entity, for example, a store. If you have checks, you don't have to carry large amounts of cash around with you.
You can also apply for a debit card when you open your checking account. Your debit card provides a safe and convenient way to get cash, transfer funds, make deposits, and manage your money. With both checks and your debit card, you can make purchases and payments – including online and by phone. Your debit card allows you to get cash and manage your money at ATMs using your physical card, or by using a digital wallet. You may be charged a fee if you use a foreign ATM or use another bank's ATM.
Each time you write a check or use your debit card, you have a record of how much you spent, and where. That can help you pay closer attention to what you're buying, how much you're spending, and avoid spending more than you planned.
how to open a checking account
Before you go to the bank, see what you need to bring with you. Keep in mind that different banks have different requirements for opening a checking account, including a minimum age requirement for having accounts of your own. When you open a checking account, the bank will need to verify your identity. You may need to bring one or more pieces of identification along with money for your initial deposit. Be prepared by asking your bank in advance if there will be a minimum opening deposit required.
Ask your bank which forms of ID they accept, for example:
Driver's license or state ID
Passport
U.S. military ID
Alien Registration card
Matricula Consular card
If you're in the military, U.S. military ID (CAC Card)
If you're a military dependent, U.S. military dependent ID
A parent or guardian must accompany a person under 18 (19 in Nebraska) and usually must bring two forms of current identification for the person under 18.
Ask your bank which forms of ID they accept for persons under 18, for example:
Birth certificate
Immunization record
Student ID
Social Security card
the parts of a check
Follow the numbers on this check example to learn the parts of a check: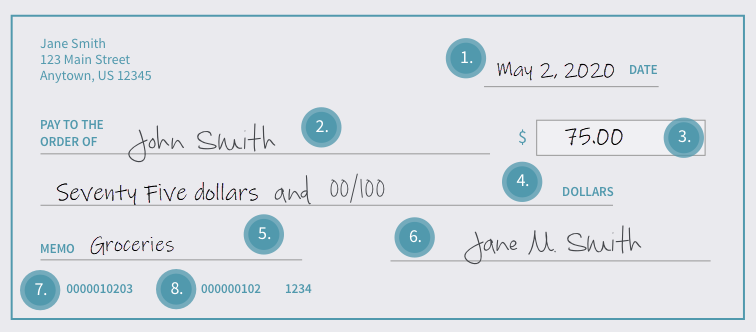 1. Date
This is where you write today's date.
2. Pay to the order of
This is where you write the name of the person or company who will be receiving the money. If you're making a withdrawal for yourself, you may write the check to yourself or "Cash" here.
3. Numeric amount box
The amount of the check is written in this box.
4. Written amount
The amount in words is written on this line. You start at the left edge of the line and when you're finished, you will draw a line through the remaining empty space until you reach the word "Dollars." This practice helps to protect against anyone changing the value of the check.
5. "For" or memo
To describe what you bought or the reason you wrote the check.
6. Signature line
Your signature should be the last thing you complete. It gives the bank permission, or authorization, to release the money to the payee.
7. Account number
This is the 10-digit account number that is unique to your account. This tells the bank which account the money comes from.
8. Routing number
This is the bank routing number. It identifies the bank that issued the check. You need this number to set up a direct deposit. Direct deposit allows your employer to electronically deposit your paycheck directly into your account, without giving you a paper check.
Note:
Write in ink.
Write clearly.
Record every check in your register.
how to write a check
Now it's your turn to fill out a check. Print this page and enter each item in the appropriate place on the check.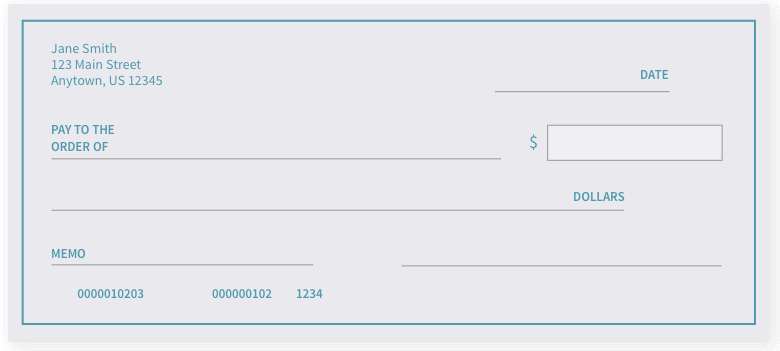 Check items
Date: Today's Date
Payee: Grocery Store
Cost of groceries in numerals: $46.73
Cost of groceries in words: Forty-six and seventy-three/100
What you bought: Groceries
When you're finished entering these items, don't forget to sign your check!
How to Endorse a Check
When you deposit a check, you need to let the bank know that you have personally approved the transaction by endorsing the check.
On the back of the check near the top, you'll write "For deposit only," your signature, and the number of the account to which you want the check deposited.
If you are using a mobile deposit feature, be sure to make a note that you completed a deposit so you don't accidentally deposit it again.
understanding overdrafts
Overdrafts occur when you spend more money than you have in your checking account creating a negative balance in your account. It can happen to anyone – for example, if you forget about a payment you have scheduled, a deposit is returned unpaid, or the timing of your payday does not match your payment due dates.
There are precautions you can take to prevent overdrafts. The easiest approach? Keep a budget, track your spending, and don't spend more than you have available.
Here are some tips to help avoid overdrafts:
Get in the habit of looking at your checking account balance and transactions regularly. Be sure to track all transactions. It's easy to forget about a small debit card purchase but many small purchases can add up and might throw off your budget.
Consider using online banking and mobile banking apps to keep track of your checking account. Personal financial management applications, which combine your account history and transactions, may identify useful insights to help you manage your spending.
Know your bill due dates. If possible, try to time bill payments after paydays, or when you expect to see money in your checking account. You may also be able to adjust your bill due dates. Many lenders will let you change your monthly payment due date. For example, if you know you get paid consistently on the 15th of the month but your car payment is due on the 14th, give your lender a call and ask for the due date to be pushed to the 16th of each month.
Know when you're getting paid. If you get paid every Friday, it's pretty easy to track. But if you have an inconsistent paycheck, or your paycheck will be delayed due to a holiday, you may need to adjust your spending.
Set up notifications. As a backup to regularly looking at your checking account, sign up to receive timely alerts—either emails or text messages —when your account balance dips below an amount you specify.
If you can, leave a small cash cushion in your checking account. This way, even if you set up automatic bill payments before your next paycheck, you are less likely to run the risk of an overdraft.