create an impressive resume
Writing an winning resume can help you get the job you're looking for. Good resume writing will do three things:
Highlight your skills, accomplishments, and qualifications
Impress a potential employer enough to schedule an interview
Help focus and guide the interview in a beneficial way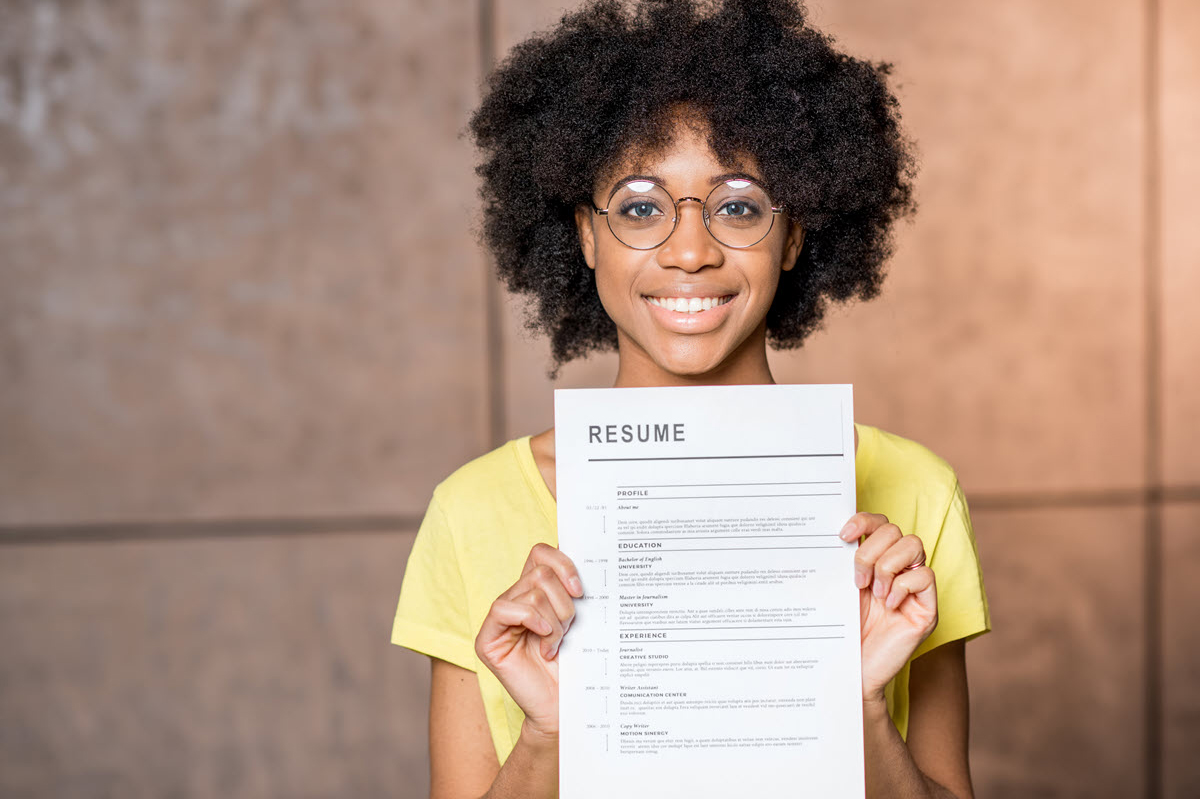 Resume Writing Tips
Follow these general guidelines to create a powerful resume to help your resume stand out from the rest.
State a clear objective — be as specific as possible. General resumes are not effective. Rely on the work you've done to date (personal assessment, career research) to inform this objective. Create multiple resumes if you find you have more than one objective or position that you are applying for.
Create custom resumes for different jobs. You want to target your resume for the job you're looking for.
Describe how your past achievements and responsibilities are relevant to the job you're looking for.
Use specific statistics, numbers, and achievements. For example: "Increased productivity 25% by developing a new process."
Try to keep the resume short— ideally between one to two pages.
Include volunteer experience if it relates to the job you're applying for.
Include special skills you may have or training you have completed (in addition to any colleges or universities).
Use key words. Many companies will perform a keyword search on the resumes they receive. Be sure to review the job listing carefully and make sure your resume includes some of the key words from the job description.
Use action verbs. Action verbs are a great tool to use when developing your resume. These strong verbs show potential employers the actions you've taken in the past and can really grab their attention.
Proofread. Have people check your resume for mistakes. You can ask a family member, friend, mentor, or someone you've met through networking.
resume formats
There are three different types of resumes you can use. These resumes will highlight your strengths and job history.
Chronological Resumes: This is the best resume If you have a work history. It will list your past jobs in chronological order, starting with your most recent position. Skills and accomplishments are listed with your employment history.
| Pros: | Cons: |
| --- | --- |
| Most common type of resume | Highlights any gaps you may have in employment history |
| Easy to prepare and read | Not easy to create if you have no work history |
| Shows off career growth as well as skills and achievements | Can unintentionally highlight how many times and how often you've changed jobs |
Functional Resumes: This type of resume places more emphasis on skills, rather than work history. The main part of the resume would list these skills, or areas of expertise (e.g. leadership, communication skills).
| Pros: | Cons: |
| --- | --- |
| Focuses on skills over work history | May send a message that you're trying to hide something |
| Allows you to organize different skills while downplaying any gaps in employment | Doesn't include specific employers, or dates of employment |
Combination Resumes: A combination resume takes the best of a chronological resume and the best of a functional resume. Use this type of resume to highlight specific skills in the main body, with a list of employers/employment history below.
| Pros: | Cons: |
| --- | --- |
| Emphasize skills/achievements earned in a variety of jobs | May become disjointed if not created well |
| Includes most recent job history, including dates and specific employers | May require more effort to create |
the cover letter
Once you've created a great resume, it's time to focus on your cover letter. Spend time on your cover letter to help you get noticed fast. Whether it's a hard copy letter you send, or the body of an email along with your resume, a cover letter can be the difference between getting an interview and getting ignored. Follow these tips for creating a powerful cover letter:
Make it personal and direct
If you can, use the name of the hiring manager or person who will be reviewing your resume in your letter greeting. This makes it more personal than just using "To whom it may concern" or "Dear sir or madam."
Also, mention the position you're applying for and how you heard about it (online, job board, referral from a contact) in the first paragraph.
Give specific examples of your experience
In the letter, explain why you're a perfect fit for the job by giving specific examples. Feel free to use some of the exact words and phrases from the job posting. If possible, try to create a concise list of your experiences and how they fit with the qualifications listed in the ad.
Sign off with thanks and contact info
The last paragraph of your cover letter should include the easiest way for the hiring manager to contact you. If you want to, close with a genuine "thank you" and even a confident request for an interview — such as "I look forward to meeting you — can we schedule an interview?"
Proofread. Proofread. Proofread.